*This shop has been compensated by Collective Bias, Inc. and its advertiser. All opinions are mine alone. #TeaProudly #CollectiveBias*
It's Victoria Day in Canada and do you know what that means? Well it is the Queens Birthday of course! Although we Canadians are our own country, there is one thing we still appreciate from our British roots, and that is…well…we still love the Queen. Celebrating Victoria Day or as we like to call it…May Two-Four Weekend, feels like the official 'start of summer celebration' in Canada.
How to celebrate Victoria Day Weekend in Canada
Victoria Day Weekend in Canada usually means a trip to the cottage or a few nights of camping with friends and family. You know, quiet mornings on the dock, BBQ's for meals, canoeing, kayaking, boats, and fishing, with a bonfire at night to top it all off. This is how we celebrate the start of summer in Canada, and this year we are celebrating with Bigelow Steep Tea, available in Walmart Canada and coming soon online…because in May, its still a little cold outside. I mean the ice is just going out on the lakes after all.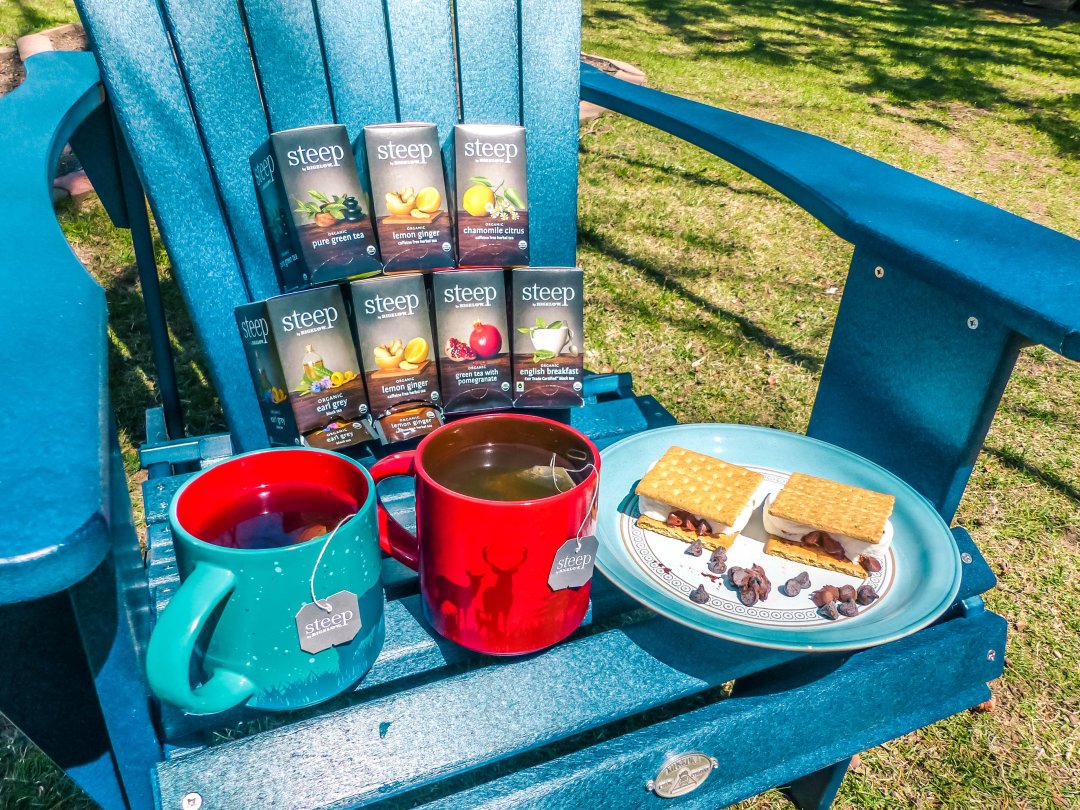 Interested in enjoying a hot cup of Bigelow Tea this summer season? Hover over the photo to click through to Walmart.ca and buy it!
At the Cottage
Up to the cottage with friends and family, there is nothing better than waking up on a crisp spring morning, heading down to the dock, and enjoying a warm cup of tea as the world wakes up. Ok, so this experience may last a little longer than 'the world waking up', it is Victoria Day Weekend after all. As we sit outside warming up with one of Bigelow Steep Teas 6 new flavours, chamomile citrus, earl grey, english breakfast, green tea with pomegrante, lemon ginger and pure green tea, waiting for each member of the group to wake up, we are able to relax, joke and chat as the loons call quietly in the background. Tea always creates a calming and tranquil experience and when mixed with a morning on the dock, it does not get any better.
Its breakfast time, up to the cottage or camp for some pancakes and maple syrup…what else would we have? Sitting at the table enjoying our maple breakfast paired with a cup of warm tea continues the experience of the morning at the dock. As we are celebrating our British roots this weekend, it would be a crime not to have a cup of tea in the Queens honour, this weekend we are drinking #TeaProudly. Being up-north at the cottage, we tend to be conscious of our eco-footprint and luckily Bigelow Steep tea's are organic…and come in enough flavours to keep the table happy.
After breakfast its time to take on some of those awesome cottage activities. This is the great thing about Victoria Day Weekend….everyone present is truly ready to shed the winter attitude, get outside and enjoy friends, family and well…mother nature. Some of us go out fishing, hiking, or to take the ATV out for a 'rip'. Some of us will be out in the boat as to enjoy the lake, do some exploring, and maybe even taking on a canoe or kayak experience. Finally there are some who will spend the weekend in a Muskoka chair on the dock reading a good book. Victoria Day is an inclusive family holiday at the lake.
It's dinner time at the cottage and you guessed it, we are having a BBQ! Family and friends getting together to celebrate the first outdoor BBQ of the year is always an enjoyable experience. Hamburgers, hot dogs and maybe a fish caught from a fishing trip earlier in the day tops off this very Canadian experience. After dinner we celebrate with one last tea on the dock before setting up our bonfire for the night. Each cup of tea we have on the dock as a group is significant as it creates a relaxing atmosphere for each and everyone of us to take a moment and bond with one another. Bigelow Steep Tea has so many great flavours for the entire family and it is as organic as the experience itself. 
As the sun sets and the moon rises, we finish off our day like any truly Canadian experience should, with a bonfire. Sitting around a crackling fire, we roast marshmallows in an effort to create the perfect smore, a mix of graham crackers, roasted marshmallows and chocolate. Smores are made by roasting a marshmallow over an open fire and when the marshmallow is soft enough it is squished between two graham crackers with chelate in between. It is the perfect interactive campfire dessert. We chat amongst ourselves, regaling each other with stories and jokes from the recent year, enjoying the warmth of the fire and the sounds of the lake. Once again a cup of Bigelow hot tea accompanies our smores as the night rolls on. There is nothing better than feeling cozy on a Canadian cottage weekend. As the night comes to an end, and each member of the party quietly goes to bed, with the fire put out, we settle down and get ready for the next day…it is a weekend after all.
Interested in Bigelows Organic Steep Tea? For more information you can connect with Bigelow Tea via Facebook, Twitter, or Instagram and tell us how you celebrate #TeaProudly.
PIN ME